Baby born size of chocolate bar home for Christmas

Proud parents thanked our staff as their miracle baby who was born the size of a chocolate bar is home ready for Christmas. 
Jodie Marrin, 35 and Lee Patrick, 38, from Birkenhead, have been given the best Christmas present they could wish for this year – their baby daughter, Sussie Bea Patrick.
Sussie was born on 28th June at Wirral Women and Children's Hospital, at just 22 weeks and four days, weighing a tiny 1lb 1oz. Born four months early, her parents were advised to be prepared in case the worst happened.
Lee said: "We were told to prepare ourselves in case we had to say our goodbyes. The doctors had to tell us that. We were in bits. For the first few weeks we couldn't eat or sleep. In my mind I was thinking we could lose her at any time."
Sussie was in intensive care for eight weeks then HDU for four weeks before moving to the Neonatal Unit. During that time the couple lived at Ronald McDonald house with their two sons, which allowed them to be close to their baby.
Jodie said: "Sussie didn't come out of intensive care for eight weeks. Every day I'd wake up and worry if she was still going to be there."
Sussie battled through and finally returned home from the Neonatal Unit on 29th October, which was a day after her due date.
Jodie and Lee said: "All the staff were brilliant. The Neonatal Unit were absolutely amazing. If I had a bad day they would sit and have a cup of tea with me. I wouldn't call them staff, I'd call them family. They weren't just there for the baby but for the whole family. They involved us in every step of Sussie's care. We're so lucky to have Arrowe Park Hospital."
The couple are delighted to have their baby daughter home for her first Christmas.
Jodie said: "I never thought she'd be home for Christmas. I feel like the luckiest girl in the world."
Lee added: "It's just going to be the best Christmas ever. I haven't felt this excited for Christmas in years. We owe the staff everything."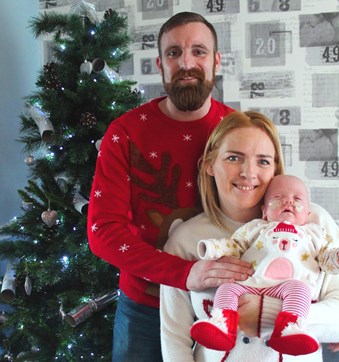 Lee Patrick and Jodie Marrin with baby Sussie Bea Patrick who is home for Christmas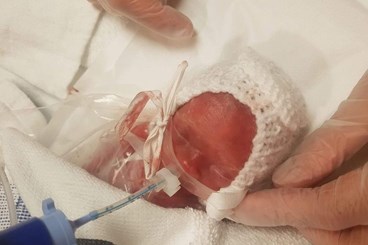 Sussie Bea Patrick who was born the size of a chocolate bar.