Wirral one of best for using technology to improve patient care

Wirral University Teaching Hospital NHS Foundation Trust (WUTH) has been named among the 'Most Wired' hospitals in the world for 2018, in a ranking published by the College of Healthcare Information Management Executives (CHIME).
The programme recognises hospitals and health systems that are at the forefront of digital care and how effectively they use technology to deliver a high quality patient service.
As a recognised Global Digital Exemplar (GDE) organisation by NHS England, WUTH is one of the most digitally enabled NHS organisations in the country. Called 'Digital Wirral', the programme aims to harness innovative technology available in the industry to transform the way health and social care services are planned and delivered.
WUTH has worked hard over the past few years to implement a wide portfolio of Cerner solutions across the organisation and maximise the functionality of their Electronic Patient Record (EPR), powered by Cerner Millennium®. These improvements have been the basis for many local developments to support infection control, safeguarding, document retrieval and electronic referrals.
The state-of-the-art integrated EPR provides clinicians with sophisticated decision support that helps minimise potential medical errors resulting in better patient outcomes. It also means the organisation is able to provide an enhanced experience for patients and clinicians including shorter inpatient stays and better use of valuable resources such as clinical time.
Additionally, WUTH has implemented their Patient Portal which is being used by patients being treated for colorectal, urological or breast cancer to reduce the number of follow-up outpatient appointments they need after completing their cancer treatment.
The announcement of WUTH being ranked amongst the 'Most Wired' hospitals in the world comes only a few months after the organisation celebrated its first anniversary as a GDE site, and with that, some of the achievements and progress made over the past 12 months.
One of WUTH's recent accomplishments is the implementation of the Wirral Care Record (WCR). As part of the system-wide Healthy Wirral partnership - a ground-breaking population health approach that uses Cerner's intelligence platform, HealtheIntent® - WUTH and their partners have developed a single longitudinal record covering nearly 330,000 people living across the Wirral area. The programme is also underpinned by Cerner's Health Information Exchange (HIE) technology to connect information and safely share it with health and social care providers involved in the patient journey.
The WCR is helping care providers and commissioners in Wirral to know their population and identify risks, and apply clinical recommendations to the public to help engage them and keep them healthy and away from ill health.
Paul Charnley, Director of IT and Information for Wirral University Teaching Hospital, said: "For over 10 years we have been working hard to build on existing technology by adopting new clinical IT systems to enhance patient care here in Wirral.
"Our technology is already saving thousands of hours for our clinical staff. Time which is now spent on direct patient care. It's a great achievement to receive this global recognition and we will continue to support our clinical staff with cutting edge technology that enables us to provide better, safer and smarter patient care."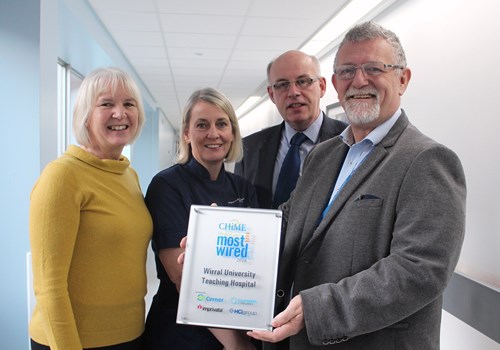 Photo caption:
Sheila Stewart, Associate Director of Informatics;  Jacqui Cooper, Chief Nursing Information Officer; Gerry O'Sullivan, Chief Medical Information Officer and Paul Charnley, Director of IT and Information.