Health Minister visits Arrowe Park Hospital

The Health Minister has travelled to Wirral following the announcement of £18 million Government funding to improve urgent treatment services at Arrowe Park Hospital.
Edward Argar visited the Emergency Department, where the upgrade, including a new Urgent Treatment Centre, is planning to be built.
The scheme will transform urgent care in Wirral and will include a redesign of the current Emergency Department.
Talking about the visit, Health Minister Edward Argar said: "It was great to visit Wirral University Teaching Hospital and NHS Wiral CCG today and to see first-hand the dedication of our fantastic NHS staff.
"I was pleased to hear about the impressive, clinically-led plans to create an Urgent Treatment Centre to improve care at Arrowe Park Hospital, which have been made possible as a result of an £18m investment from the government.
"This funding is part of the Government's pledge to make sure that patients get the best treatment in the best possible setting as part of our £1.8bn boost for the NHS."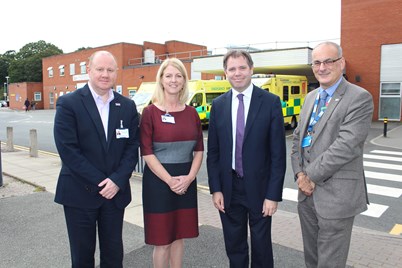 Anthony Middleton, Chief Operating Officer said: "It is really good news for staff and patients that Wirral's only Emergency Department will be given the chance to transform itself into a much improved urgent treatment service.
"This is the biggest investment seen at Arrowe Park since the hospital was built almost 40 years ago."
Dr Nikki Stevenson, Executive Medical Director added: "This really will transform the service we provide for patients who are in need of urgent care.
"Medicine and treatment have evolved greatly over the past few years to meet patient demand. It's important that our buildings also evolve to meet this modern requirement. This new building will make it easier for Wirral patients to access the urgent services they require by offering a whole range of community and hospital services, and ensuring that they receive the right level of care for their needs."
Last month it was announced by the Department of Health and Social Care that NHS organisations, clinical commissioning groups and health and care partnerships across the country will receive capital funding worth £1.8bn for a variety of schemes to improve buildings and estates, redesign services and care pathways, and improve patient care across the country.
In total, 20 schemes have been approved across the country, with five of those schemes located in the North West.
Photo caption: (L-R) Anthony Middleton (Chief Operating Officer – WUTH), Dr Nikki Stevenson (Executive Medical Director – WUTH), Edward Argar MP (Minister of State for Health) and Simon Banks (Chief Officer – Wirral Health & Care Commissioning)