NHS first for Wirral as WUTH commits to 'Dying to Work' Charter

Wirral University Teaching Hospital (WUTH) has added its name to a national Charter aimed at helping employees who become terminally ill at work.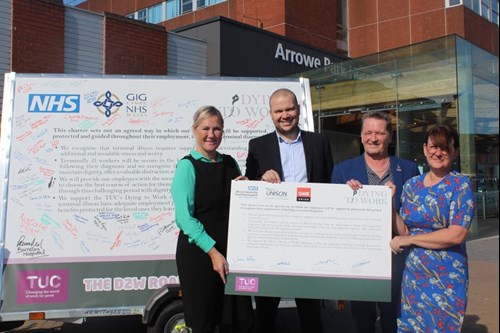 Pictured: (L-R) Janelle Holmes (Chief Executive - WUTH), Jay McKenna (Acting Regional Secretary – TUC North West), Norman Robinson (Staff Side Chair – WUTH) and Helen Marks (Director of Workforce – WUTH)
The Charter is part of the TUC's wider Dying to Work campaign which is seeking greater security for terminally ill workers where they cannot be dismissed as a result of their condition.
Janelle Holmes, Chief Executive of WUTH said:
"I'm really pleased that WUTH is the first NHS organisation in Wirral to sign up to this important Charter as we're committed to ensuring our staff feel valued at all times during their employment with us.
"We take the health and wellbeing of our staff really seriously. Although we are always supportive of staff who have been diagnosed with a terminal illness, the decision to commit to the TUC Charter was very easy to make as it is the right thing for us to do.
"My thanks also go to our Staff Side colleagues and our Diversity and Inclusion Group for championing this for us."
Norman Robinson is Staff Side Chair at Wirral hospitals. He added:
"Staff who have been diagnosed with a terminal illness need support and understanding, especially when it comes to removing or reducing any stress and worry about their job.
"As the biggest employer in Wirral, I'm really pleased that WUTH is fully supporting this initiative.
Dying to Work was taken forward by the TUC following the case of Jacci Woodcook, an area sales manager from Derbyshire who was forced out of her job three years ago after being diagnosed with terminal breast cancer.
The TUC is asking employers to sign up to its voluntary charter to stop cases like Jacci's happening in the future.
TUC North West, Acting Regional Secretary, Jay McKenna said:
"Your job should be the least of your worries when you get a terminal diagnosis.
"I'm delighted that Wirral University Teaching Hospital have shown real leadership in this area, working with unions to guarantee fair treatment for terminally-ill workers.
"Over 1 million workers are now covered by the Dying to Work charter across the country, and we expect more employers to commit in the coming months."