Deputy Mayor returns to Neonatal Unit where grandson was treated

The Deputy Mayor of Wirral visited the Neonatal Unit at Arrowe Park Hospital with his grandson who was treated on the unit for three months after being born premature.
Councilor George Davies and Deputy Mayoress Cath Davies, visited the Wirral University Teaching Hospital's Neonatal Unit, to tour the facility and learn more about the WUTH Charity's 'Tiny Stars' appeal. The aim of the appeal is to raise £1.5 million in the next three years to refurbish the unit, which is based in Wirral Women and Children's Hospital on the Arrowe Park Hospital site.
It is a cause close to Councilor Davies' heart, after his grandson Ben Stuart was treated at the unit as a baby. 
Ben, who is now 24 and joined his Grandparents on the visit, said: "It is lovely to be able to come back 24 years later and learn about the work WUTH Charity and the Neonatal unit are doing to improve the facility."
It was emotional for Councillor Davies to return to the unit for the first time since his grandson was born.
He said: "On the night Ben was born I was sat in council and had to leave early and come up to Arrowe Park Hospital. Ben was the size of a hand and only weighed one kilo.
"We used to call him 'a bag of sugar' because he was that small. We are so grateful for the care he received during this time."
The Neonatal Unit is one of two level 3 (highest level) intensive care units in Merseyside and Cheshire. It is the only unit in the area that treats both mum and baby together. The upgrade in facilities will improve the environment for poorly babies and their mums.
WUTH Charity raised over £20,000 during a recent abseil event at Arrowe Park Hospital and aims to reach the £1.5 million target in the next three years.
Victoria Burrows, Head of Fundraising at Wirral University Teaching Hospital, said: "We are so happy to welcome the Deputy Mayor and Mayoress to come and see our unit with their grandson Ben.
"Tiny Stars is off to a great start but we need as much support as possible to make the appeal a success. We'd ask anyone who is interested in helping to get in touch."
For more information about WUTH Charity and the 'Tiny Stars' appeal, please visit wuthcharity.org, email wuth.charity@nhs.net or call into the charity office at the main entrance of Arrowe Park Hospital.
ENDS
Photo captions: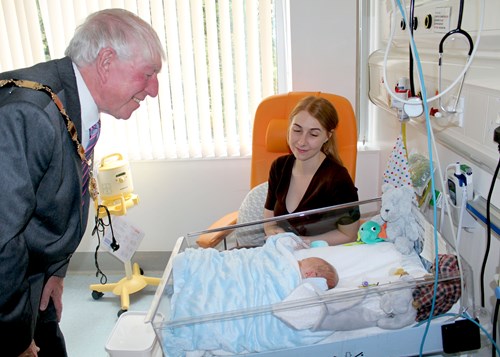 Deputy Mayor, Councilor George Davies visiting the Neonatal Unit, pictured with baby Alexander Kenworth, and his mum Jessica Kenworth.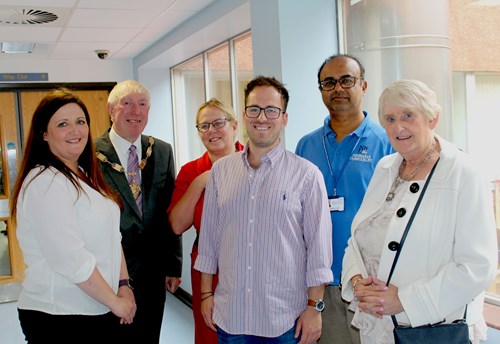 Pictured left to right: Victoria Burrows, Head of Fundraising at Wirral University Teaching Hospital; Deputy Mayor of Wirral, Councillor George Davies; Clare Macglashan, Deputy Ward Sister of the Neonatal Unit at Wirral University Teaching Hospital; Ben Stuart; Dr Sanjeev Rath, Clinical Service Lead at the Neonatal Unit and Deputy Mayoress Cath Davies.