Radiography team cross Europe to support WUTH Charity

Four radiographers from Arrowe Park Hospital have recently completed the Motoscape Rally challenge for WUTH Charity, the official charity for Wirral University Teaching Hospital.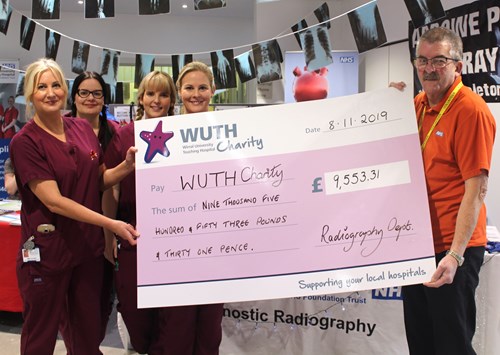 Pictured above: The WUTH Radiology team giving a cheque to the WUTH Charity. 
Cara Jones, Jenny Cotterell, Grace Harrison and Emma Glaysher drove across Europe to Venice and finished in 5th place.  They were also runners-up in the Best Car category.
A fantastic total of £9,400 was raised by the team, with support from the Trust's Radiography Department and WUTH Charity volunteers.
Fundraising activities have taken place throughout the last year and have included raffles with prizes donated by the Radiography team, events such a charity car wash, music night and BBQ.
After a full 12 months of fundraising, the final cheque was presented to WUTH Charity on 8th November, as part of the team's World Radiography Day promotional event, in the main entrance of Arrowe Park Hospital.
The Radiography Department and WUTH Charity would like to thank an extensive list of supporters who helped make this fundraising so successful, including many friends, family members and local businesses.
If you would like to know more about WUTH Charity and how you can help please visit wuthcharity.org