WUTH signs charter to support parents of premature babies

A mum and dad whose daughter was born 12 weeks early have thanked their employers, Wirral University Teaching Hospital, for changing their organisational rules to allow extended leave for parents of premature babies.
Catherine Flynn, a Speech and Language Therapist and partner Neil Smithson an Orthotist, who both work at Arrowe Park Hospital, were surprised when their daughter, Emmeline, was born at just 28 weeks.
Catherine said: "When Emmeline was born she needed to spend 10 weeks in hospital as she required specialist neonatal care. I was surprised that the current government policy meant that this time counted as part of my maternity leave. However, at the time our main focus was just on being able to take our baby home with us."
As a new mum, Catherine soon realised that by the time she came back to work Emmeline would not have been in the same stage of development as other babies at the end of maternity leave. She heard about The Smallest Things charity who campaign for extended leave for parents with premature babies and urge workplaces to sign up to their Employer with Heart charter.
At a regular monthly forum to meet the WUTH Executive Team, Catherine and Neil relayed their story to the Director of Workforce. Within just a few weeks the organisation had signed up to the Employer with Heart charter and changed its policy to extend parental leave for staff whose babies are born prematurely.
Speaking about the change, Catherine said: "We're really pleased. I think if it can help someone else at WUTH who is in our position to know that they are going to have that time with their baby when they get home it's really important. Hopefully someone else can benefit from it. We're really thrilled the organisation listened to us.
"I'd just like to thank the Executive Team and say how grateful we are that they granted us the extra leave. Our baby is okay now but when she was born we didn't know that would be the case. If you know you've got the extra time it will really help because it's such a stressful situation."
Helen Marks, Director of Workforce at WUTH, said: "We would like to thank Catherine and Neil for bringing this to our attention. As a family hospital, we take pride that we are the biggest employer locally. We were really pleased to make these important changes as it was the right thing to do.
"This additional leave will give parents that important extra time with their baby. We know this will also make such a real difference to staff who may find themselves in similar circumstances."
Norman Robinson, Staff Side Chair (Unions) at WUTH, said: "This is a good example of partnership working for the welfare of staff members and their families.
"As the baby was kept in hospital for weeks after the birth, it was only fair to make up the time lost at the end of her maternity leave, as this is an extremely stressful period for any new parent and it is far worse in these circumstances.
"This agreed policy change has had a major benefit for the family to bond over the same period every new mother has. As the dad is also a member of staff he was given extra paid special leave to spend time with the mother and baby. This is a good example of staff side and management working together for the benefit of all staff welfare."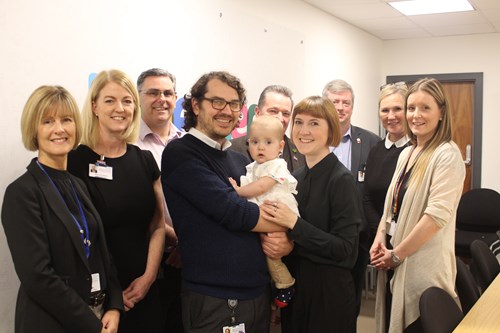 Photo caption:
Catherine Flynn and Neil Smithson with their baby Emmeline, members of the Executive Team, HR Team and Norman Robinson, Staff Side Chair at WUTH.