Boost for Critical Care Team and Charity Fund

The Wirral University Teaching Hospital (WUTH) Charity Critical Care fund and the Critical Care team have received a boost, thanks to the amazing efforts of Danny De Brabander and his charity #TeamDDB. 
Danny and #TeamDDB developed and took part in a number of fundraisers during 'lockdown' for the benefit of the Critical Care department at WUTH, where he was cared for in 2019. These fundraisers included setting up a JustGiving page for donations, making a 'thank you to the NHS video' , 5k runs done by many, #StayHomeShaveYourHead by local school boys Daniel Stanton, Finn Robinson and Charlie Pearson, lockdown bingo by Joey Kielty -and much more, helped achieve the amazing total raised. 
Victoria Burrows, Head of Fundraising for the Trust and WUTH Charity, said:" I'd like to say a huge thank you to Danny and Team DDB for their generous gift for the Critical Care team. We are very grateful to be chosen by Danny to benefit from his amazing fundraising efforts."
Danny was diagnosed with terminal bowel cancer in January 2019. The cancer had spread to his liver and he was given months to live. Determined to be positive, Danny co-founded #TeamDDB to support other people, like himself, being treated for this devastating illness.  They are also aiming to raise much needed awareness of bowel cancer, especially in younger people. If caught early caught early, bowel cancer is treatable in 90% of cases, but sadly too many die from this disease every year.
The #TeamDBB spirit is to 'Never Give Up, To Be Kind to Others and to always look to be Positive' even when facing adversity.
Danny, 38, from Birkenhead said: "Throughout this journey, I have turned my negative into a positive; setting up a charity called TeamDDB which has to date raised over £37,000 for local charities (in just over one year). We have also raised £6,800 for the amazing Critical Care team at Arrowe Park Hospital during the COVID-19 crisis. This is the same team that saved my life in April 2019. This was so fulfilling as I will always be forever grateful for the amazing care and support they gave me. With this money raised, we will give each member of the team a £50 voucher and a thank you from card from TeamDDB."
For the Critical Care team at Arrowe Park Hospital from WUTH the gift vouchers were a lovely surprise.
Nadine Weeks, Lead Nurse for Critical Care at Arrowe Park Hospital, said: "The Critical Care team are so grateful for the gift vouchers raised by Danny and Team DDB. We were even happier to see him recently looking so well and wish him all the best with his ongoing treatment."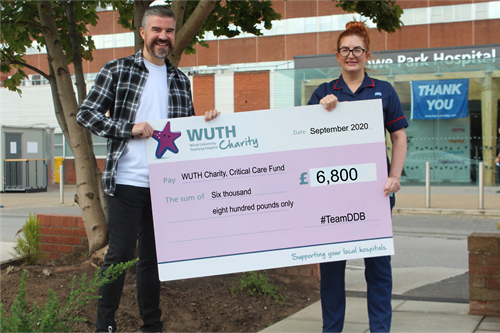 Photo of Danny De Brabander with WUTH Critical Care Manager, Christine Jones.