Meet the team
Meet the team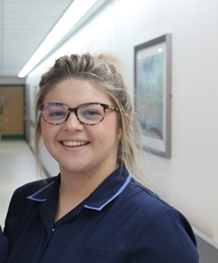 Lauren Binks, Learning Disability Practitioner/ Learning Disability Nurse.
Number: 0151 604 7096
Bleep: 2409
Email: lauren.binks@nhs.net
About Lauren
My job as a learning disability nurse is to support people with a Learning Disability and/or with Autism with their health and social care needs.
My aim as a Learning Disability Nurse is to allow people's wishes and feelings to be heard and met, to achieve the best positive outcomes.
I can achieve my role by speaking to people with Learning Disabilities' families and carers to learn how we can support people best when they come in to hospital.
I can use my knowledge and experience to raise awareness about people with Learning Disabilities.