Video Consultations
Video Consultations

"Video calling is as convenient as a phone call, with the added value of face-to-face communication. It can save you time and money, and brings your care closer to home."
Due to the recent Coronavirus Pandemic, there has been an urgent need to transform the way we provide care to our patients, to prevent onsite appointments.  At present, we aim to complete the majority of our appointments by telephone, however if it is recognised, that there is a requirement for a face to face appointment then the patient will be contacted to check if they have the necessary equipment to join a video consultation.
Requirements for joining a video consultation:
Internet Browser – Google Chrome, Apple Safari, Microsoft Edge
Camera
Microphone
Speakers/Headset
Further information on the above requirements can be found here:  https://england.nhs.attendanywhere.com/callers/Content/J_Callers/Caller_PatientInformation.htm
You can access your video consultation, via the relevant link from the of list specialties below.  For instructions on how to access your video consultation, please refer to the instruction leaflet at the bottom of this web page
.
Adult and Paediatric Audiology
Anaesthetic
Cardiology
Chronic Pain Service
Dermatology
ENT
Gastroenterology
General Surgery
Gynaecology
Haematology
HIV service
Nephrology
Obstetrics
Paediatrics (Acute and Community)
Palliative Care
Rheumatology
Stroke
T&O
Urology
Below you will find more instructions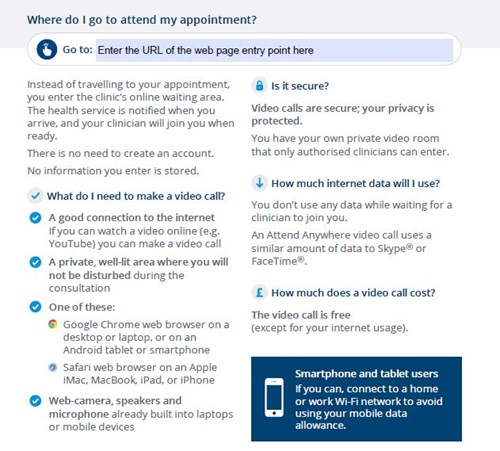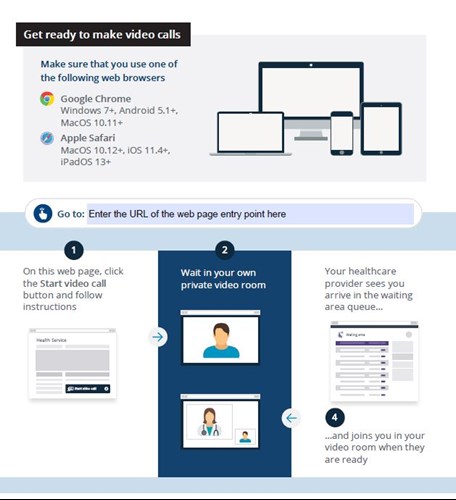 If you have any trouble accessing your video consultation, please refer to the guide below. 
Video Consultations