10,000 patients on Wirral have benefited from earlier access to diagnostics

10,000 patients on Wirral have benefited from earlier access to diagnostics
Patients across Wirral have been benefiting from earlier access to diagnostic testing thanks to national investment in a new Community Diagnostic Centre (CDC). This CDC is provided in partnership between Wirral University Teaching Hospital (WUTH) and The Clatterbridge Cancer Centre (CCC), called Clatterbridge Diagnostics.
The Clatterbridge Diagnostics CDC has this week seen its 10,000th patient come through its doors since July 2021, which has helped the system reduce waiting lists by enabling earlier access to diagnostics, for a wide range of conditions.
Patricia O'Neill, our 10,000th patient, said: "My GP referred me for a stomach scan only 3 weeks ago. It has been really quick because we have been able to use this facility." She also highlighted that "from the moment we arrived, everything has run smoothly, parking was easy and check in was easy too".
Clatterbridge Diagnostics is located within The Clatterbridge Cancer Centre in Wirral at the Clatterbridge Health Park just off the M53 on the Wirral and offers an extra service for patients, alongside the current diagnostics services at Arrowe Park Hospital and The Clatterbridge Cancer Centre.
Dr. Nikki Stevenson, Medical Director and Deputy Chief Executive at Wirral University Teaching Hospital, said: "We are delighted that the development of Clatterbridge Diagnostics has allowed 10,000 additional patients to access their tests and scans much earlier, helping us improve outcomes for our patients. The centre is a real boost for our population, and an excellent example of partnership working, to ensure that people can have tests easily which means that they can receive treatment more quickly."
Joan Spencer, Chief Operating Officer at The Clatterbridge Cancer Centre, said: "Clatterbridge Diagnostics is a fantastic example of two local hospitals working together to share facilities and expertise to enable faster access to diagnostic tests for the people who need them. We're absolutely delighted that the new service means an additional 10,000 people have already benefited so far.
-ends-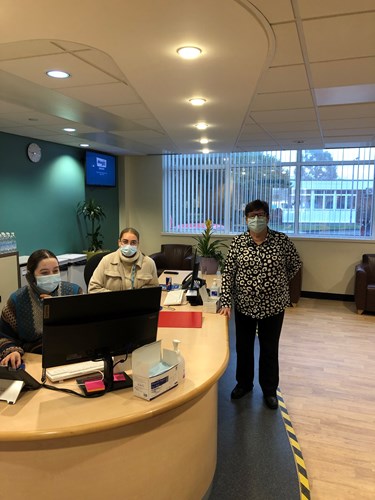 Photo caption:
Patricia O'Neill, patient pictured with staff from the Clatterbridge Diagnostic Centre.