Strategy launch offering the best possible experience for patients

A Patient Experience Strategy has been launched by Wirral University Teaching Hospital Trust (WUTH) to ensure the best possible experience and outcomes for patients.
Tracy Fennell, appointed Chief Nurse at the Trust in March 2022, is leading on patient experience and one of her first priorities has been to launch the new Patient Experience Strategy for the organisation.
It sets out a vision of what people can expect during their care and aftercare. The Trust's sites include Arrowe Park Hospital, Clatterbridge Hospital and Wirral Women and Children's Hospital.
The strategy will be used to enhance patient experience at the Trust and will support the organisation's aim to deliver the best quality and safest care to the communities it serves.
Members of the public and staff have been instrumental in developing the Patient Experience Vision, which forms part of the strategy and contains key promises to patients. These include ensuring patients are made to feel at ease and reassured; listening and respecting patients as individuals; helping patients feel safe so they have trust in staff; designing care 'for the patient, with the patient' and working with the patient to plan their aftercare when leaving hospital.
Listening to and capturing the experiences of patients, as well as their families, is a key part of the strategy. This feedback will be monitored to drive further improvements.
Tracy Fennell joined the Trust in 2018 as Deputy Chief Nurse and became Interim Chief Nurse before being appointed recently as Chief Nurse.
She said: "I am delighted to have been appointed as Chief Nurse and very excited about this important project. A big focus for our teams will be ensuring we give patients the best possible experience with us and we are showing this commitment with our new strategy.
"I would like to say thank you to our staff and partners who are committed to working with us to deliver our promises to all patients and people who use our services.
"Patients have already played a big part in shaping our vision for the strategy which we are very grateful for and this is just the beginning of that strong partnership work. People will see our Patient Vision and our promises at entrances to the wards as a reminder of what they can expect while they are in our care."
Janelle Holmes, Chief Executive at Wirral University Teaching Hospital added: "Ensuring our patients have the best possible experience at WUTH is the responsibility of all of us. It is important we get that right from the first point of contact with patients. It is great that this new strategy shows a strong commitment to patient experience and what people can come to expect from us."
The strategy is part of the Trust's overall strategic plan, which also includes multi-million pound investments in new facilities like our Emergency Department at Arrowe Park Hospital, more operating theatres and testing capabilities at Clatterbridge and investments in digital healthcare to modernise our care and treatments available.
-ends-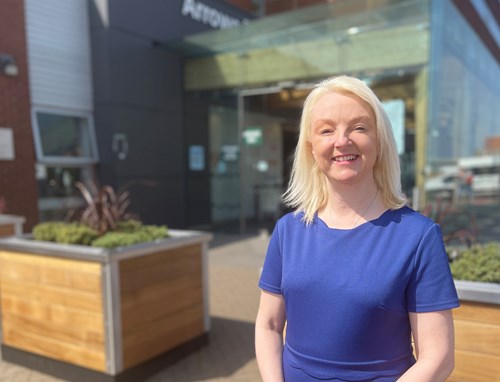 Photo caption:
Tracy Fennell, the new Chief Nurse at Wirral University Teaching Hospital, which has launched a new Patient Experience Strategy.
*To view the Patient Experience Strategy, visit: WUTH Strategy 2021-26 | Wirral University Hospital NHS Foundation Trust