New dialysis ward opens at Wirral University Teaching Hospital

A £2.8 million investment has created a new space for the treatment of dialysis at Wirral University Treatment Hospital to transform patient care.
The new Dialysis Unit has been relocated and upgraded with new ward spaces, side rooms, and waiting areas, improving patient experience.
Dialysis is used to treat patients whose kidneys do not function correctly, meaning their blood is not cleaned efficiently enough of toxins. It filters out unwanted substances by passing a patient's blood through a machine which acts like a functioning kidney. Patients receiving treatment can be on the unit for up to four hours, three days a week.
The former Dialysis Unit was first brought to the Arrowe Park site 28 years ago from Clatterbridge Hospital and some patients will have used the facility on an ongoing basis for several years.
The upgrade is one of several major developments at Arrowe Park Hospital and Clatterbridge Hospital to enhance experience for patients.
Janelle Holmes, Chief Executive, Dr Nikki Stevenson, Medical Director, and Paul Scragg, Associate Director of Estates, Engineering and Capital Delivery, visited the ward to officially open the new space.
Janelle Holmes, Chief Executive said: "I am pleased that we've been able to provide capital investment to improve patient experience, in line with our commitments in our patient experience strategy. Dialysis patients are regular attendees at Arrowe Park Hospital and providing an improved and modern environment with all the latest equipment is important for their long-term needs."
The new unit adds to the Trust's investments in other areas such as 4 additional operating theatres at Clatterbridge and over £30 million for a new Urgent and Emergency Care centre at Arrowe Park. The Trust has also invested in staff welfare with a new restaurant and changing rooms at Arrowe Park.
Karen Schutheis, Ward Sister Dialysis Unit, joined the nursing staff on the dialysis unit in 1997 and has work on the ward ever since.
Karen said: "I have worked through every reinvention of the Dialysis Unit we have had at the Trust. To now be able to give patients a brand-new space is amazing, and I know it will make a huge difference to both patients, families, and staff.
"I would like to personally thank all those involved in the project and thank my colleagues for the hard work and dedication they show treating patients on the unit."
Throughout the build, the project team have worked with staff from the ward to ensure it is also functional for both staff and patients. Staff only areas have been installed, equipped with showering and break facilities.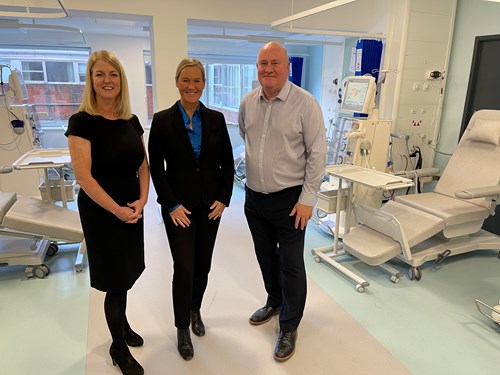 Pictured Left to right: Dr Nikki Stevenson, Medical Director; Janelle Holmes, Chief Executive and Paul Scragg, Associate Director of Estates, Engineering and Capital Delivery.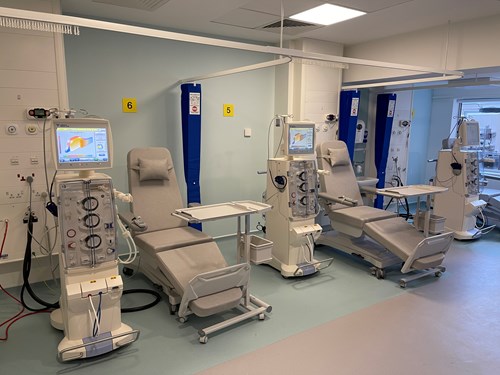 Ward 1 space for dialysis treatment