More than 400 patients benefitted from surgical hub in three months

A multi-million pound elective surgical hub has opened its doors at Clatterbridge Hospital benefitting more than 400 patients in its first quarter since opening.
Cheshire and Merseyside Surgical Centre, designed by DAY Architectural, is the first of a number of new-build surgical hubs to open in the North West with the aim of tackling the backlog in people waiting for elective surgery due to COVID-19.
Wirral University Teaching Hospital was allocated £10.6 million from NHS England's Targeted Investment Fund via NHS Cheshire and Merseyside to build the two new 'modular theatres' at its Clatterbridge Hospital site which is phase one of the project.
This innovative development has seen the theatres created as modular buildings, meaning they were largely pre-built before arriving on site, and constructed on to the side of the current theatres at Clatterbridge Hospital. This has reducing time for completion and ensured that the centre was up and running as soon as possible.
A further £14.95 million was announced later last year to build two further theatres at the centre as part of phase two of the project and they are expected to open later this year. Following completion of the second phase which will bring total funding of the project to around £25 million, the centre will treat around 6,000 patients each year across Cheshire and Merseyside.
Janelle Holmes, Chief Executive at Wirral University Teaching Hospital, said: "The centre was built away from the Trust's acute hospital at Arrowe Park, ensuring it is separate from patients requiring emergency admission for illnesses such as respiratory infections, COVID-19 or flu. It is also aimed at reducing cancellations of surgery on the day and preventing valuable operating time being wasted."
Design innovation and green considerations:
During the planning phase the design of the centre was rotated by 90 degrees to enable it to be built on to the existing site without compromising clinical services. It allowed a 12 bedded recovery ward which is also used by the original theatres at Clatterbridge Hospital to be increased to 18 beds under phase two of the development while keeping it as one ward.  This maintained patient care, while keeping staffing numbers and costs at an efficient level. In addition, it meant all theatres at the hospital site could be co-located without services or wards being in located between.
Both of the new state-of-the-art theatres have advanced technology and one of the key features is the clean air skirt-less canopy, which enables a range of surgery to take place without risk of infection.
The plant room which services the theatres is also located on the roof, meaning it does not take up any valuable ground space required for future expansion. As it is based on a greenfield site, having a rooftop plantroom minimises noise pollution and is more aesthetically pleasing.
A key feature of the theatres is that they are set to idle down both the air changes and lighting when not in use, reducing electricity usage and contributing to the Trust being carbon neutral.
Photo captions: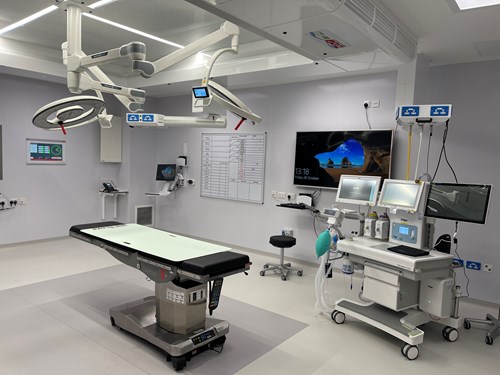 Photo 1 – One of the new theatres at Cheshire and Merseyside Surgical Centre. Photo by DAY Architectural.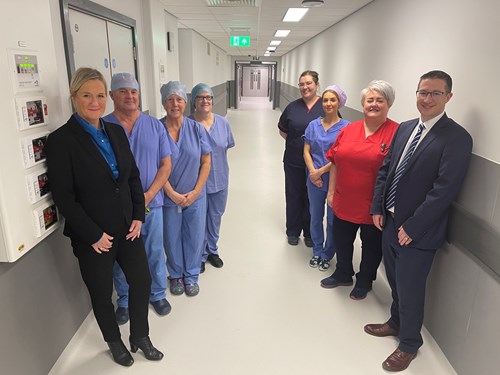 Photo 2 - Janelle Holmes, Chief Executive at Wirral University Teaching Hospital (front left) and Paul McNulty, Divisional Director of Cheshire and Merseyside Surgical Centre (front right), pictured with theatre staff at the centre. Photo by Wirral University Teaching Hospital.