Wirral University Teaching Hospital (WUTH) Introduces Digital Patient Flow Technology to Reduce Waiting Times for Patients

New digital patient flow technology will play a pivotal part in modernising the Outpatient areas across Wirral University Teaching Hospital, mainly at Arrowe Park and Clatterbridge Hospitals. The patient flow technology uses digital methods to book in and track patients, as they enter and transfer through the hospitals for their appointments.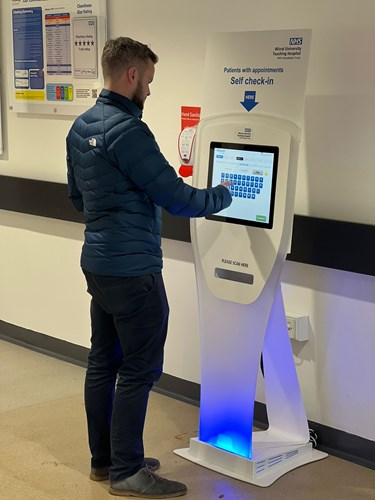 In partnership with digital patient flow specialists, 'Intouch with Health,' Wirral University Teaching Hospital is launching a new system called 'Flow Manager' across its hospitals. 'Flow Manager' is a digital solution that enables hospital staff to efficiently manage each stage of the patient's treatment journey.
Hayley Kendall, Chief Operating Officer of Wirral University Teaching Hospital, said of the new system:
"Our vision is to deliver the best quality and safest care to the communities we serve. That includes ensuring a smooth journey through the hospitals for our patients. These self-check-in screens are a significant step towards an easier process on arrival at appointments."
The technology will allow patients to self-check in using upgraded digital kiosks, with no need to wait in a queue. The Trust will also be introducing digital calling screens, allowing clinicians to ask a patient to meet them in their room with the click of a button. Clinical staff will no longer have to leave their consulting rooms to call patients from the waiting room, meaning that they have more time to talk to and care for their patients during their consultation.
The aim of these technologies is to provide a streamlined and efficient journey for the patient, resulting in a better patient experience. The self-check in kiosks are intuitive and easy to use, with built in safeguards to ensure patient confidentiality and personalisation.
Chris Mason, Chief Information Officer at Wirral university Teaching Hospital said "These new approaches provide our staff and patients with the tools to ensure every patient visit through Outpatients is managed effectively. We have extremely busy Outpatient departments across WUTH, and these digital tools help our teams meet the demands, by enabling efficiencies within the workflows and better reporting."
The introduction of digital patient flow technologies aligns with Wirral University Teaching Hospital's strategy to be a digital pioneer and to adopt innovative technologies to support both its Clinical and Operational teams in providing the best possible patient care.
For more information about the benefits of these initiatives, please visit wuth.nhs.uk.