Wirral surgical hub earns national GIRFT accreditation for meeting top clinical and operational standards

Wirral University Teaching Hospital's Cheshire and Merseyside Surgical Centre at Clatterbridge (C&MSC) has been successfully accredited as an elective surgical hub delivering high standards in clinical and operational practice.   
The scheme, run by NHS England's Getting It Right First Time (GIRFT) programme in collaboration with the Royal College of Surgeons of England, assesses hubs against a framework of standards to help hubs deliver faster access to some of the most common surgical procedures such as cataract surgeries and hip replacements. It also seeks to assure patients about the high standards of clinical care. 
Surgical hubs, which are separated from emergency services, are part of plans nationally to increase capacity for elective care with more dedicated operating theatres and beds.  
The hubs exclusively perform planned surgery and mainly focus on high volume, low complexity (HVLC) surgery across key specialties. For the Cheshire and Merseyside Surgical Centre these include general surgery, orthopaedics, gynaecology, ear nose and throat, and urology. Hubs bring together the skills and expertise of staff under one roof, with protected facilities and theatres, helping to deliver shorter waits for surgery.  Because they are separated from emergency services, their surgical beds can be kept free for patients waiting for planned operations, reducing the risk of short-notice cancellations. 
The Cheshire and Merseyside Surgical Centre was recently visited and assessed by the GIRFT team for accreditation and recognition that the hub is working to a defined set of clinical and operational standards on:  
The patient pathway 

Staff and training 

Clinical governance and outcomes 

Facilities and ring-fencing 

Utilisation and productivity 

 
The visiting team highlighted several exceptional practices, noting that the C&MSC is an exemplar hub full of innovation and excellent ideas. They also shared that they could see it was well-led and had happy engaged staff, good board level support, along with high and increasing utilisation rates and some imaginative and effective solutions to challenging problems. 
C&MSC is one of 24 hubs to date that have been accredited.  There are around 94 hub sites currently in operation in England and the scheme is being rolled out nationally with quarterly cohorts to accredit all hubs over the next two years. While it is not mandatory for trusts to seek accreditation, the long-term goal is for every elective hub to be accredited.    
Professor Tim Briggs, Chair of GIRFT and NHS England's National Director for Clinical Improvement and Elective Recovery, said: "We have been impressed with the professionalism and enthusiasm of the hub teams who are delivering outstanding care.  
"All of the sites we accredited are focused on delivering safe and high-quality care, and an excellent patient experience.  GIRFT's focus is on developing surgical hubs with the aim of improving patient flow so that patients have shorter waits for surgery and, for some procedures, will be more likely to be able to go home on the same day." 
Janelle Holmes, CEO at Wirral University Teaching Hospital (WUTH) and Senior Responsible Officer for the Cheshire & Mersey Elective Recovery programme said: "I am delighted by the news that the Cheshire and Merseyside Surgical Centre has been accredited by GIRFT.  
"This achievement recognises the dedication of the staff and their unwavering focus on providing the best possible care, to patients not just in Wirral but across the whole of Cheshire and Merseyside." 
Hayley Kendall, Chief Operating Officer at WUTH, added: "I am incredibly proud that the Cheshire and Merseyside Surgical Centre has achieved the GIRFT accreditation. This recognition reaffirms our commitment to delivering the highest standard of patient care while also streamlining our services for maximum efficiency. 
"The accreditation shows the dedication and tireless efforts of our exceptional healthcare team. At WUTH, we firmly believe in the importance of getting it right first time." 
Professor Rowan Pritchard-Jones, Medical Director at NHS Cheshire and Merseyside, said: "Teams right across Cheshire and Merseyside continue to work extremely hard to provide the very best care for our residents and to address waiting lists that have built up. 
"Cheshire and Merseyside Surgical Centre's Getting It Right First Time accreditation is a perfect example of that commitment and testament to the hard work done to date."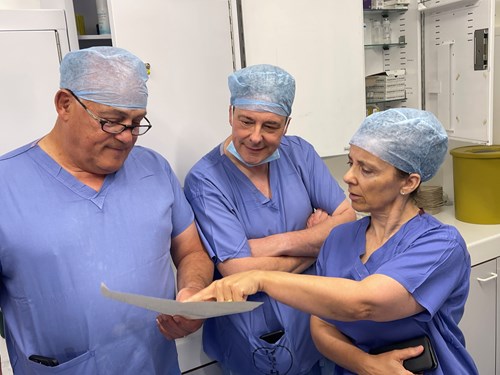 Pictured: (left to right) Professor Tim Briggs, Chair of GIRFT and NHS England's National Director for Clinical Improvement and Elective Recovery; Nigel Donnachie, Orthopaedic Consultant Surgeon and Clinical Lead, and Kath Brodbelt, Anaesthetic Consultant, Associate Medical Director Surgery.