Wirral and Chester Breast Screening Programme
Wirral and Chester Breast Screening Programme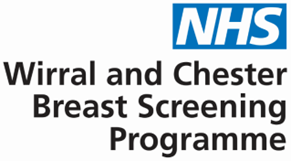 IMPORTANT NOTICE
We would like to confirm that at all times we are working very hard to ensure the highest levels of safety for our clients and staff. Therefore the Breast Screening Programme team will be adhering to all necessary Covid 19 safety and social distancing measures. Unfortunately we anticipate that adherence to such measures will slow the time taken to complete each appointment. We apologise for this inconvenience but do ask for clients' patience and understanding during these exceptional times.
As breast screening resumes, clients who have had their appointment delayed during the pandemic will begin to receive invitations for breast screening.
As the programme recovers further clients will be sent letters inviting them to contact the Breast Screening Service to organise a convenient time for their screening mammogram appointment. During this contact please inform the operator of any mobility difficulties and the presence of any breast implants you may have.
We would request that clients arrive no more than 10 minutes prior, or 10 minutes after their appointment time, as you may have to be turned away due to social distancing.    For everyone's safety and to reduce the risk of infection, please attend the appointment at the allocated time.  If you are early, you may be asked to return to your car or wait outside the hospital until your allotted time.  If you are over 10 minutes late, we cannot perform the mammogram, and you will need to contact us once you return home, to re-book. 
Please attend for your appointment alone.  If this is not possible, please contact the Unit to inform us.
In the meantime if you have any breast symptoms that you are concerned about please contact your GP who will refer you to a breast clinic if necessary. These services are still in place at present.
Patient Satisfaction Survey - Please complete this after you have attended for your Screening Mammogram if you have not already done so when you visited the department.